Discover the Winner of the IFOY Award
Warehouse Truck Highlifter of the Year 2020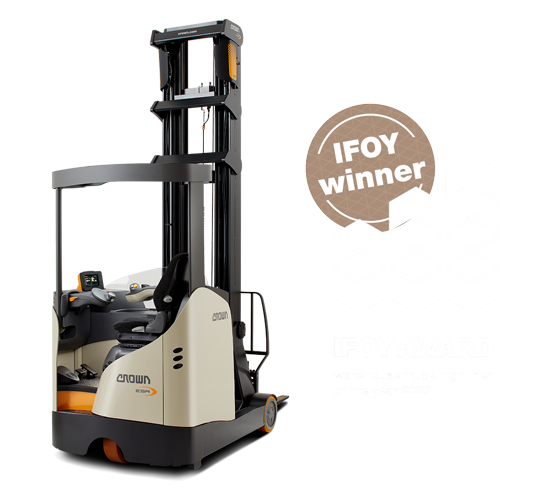 Real Performance is Within Reach - Experience the ESR 1000 Series Product Highlights
Work Smarter and Faster at Height
The ESR 1000's optional Xpress Lower technology lets you double lowering speeds, resulting in substantial savings in time and money. The optional Auto Height Select feature automatically stops the forks at programmed rack heights to avoid product, rack and truck damage while improving throughput.

2x faster lowering speed, and
Up to 21% more productivity with Xpress Lower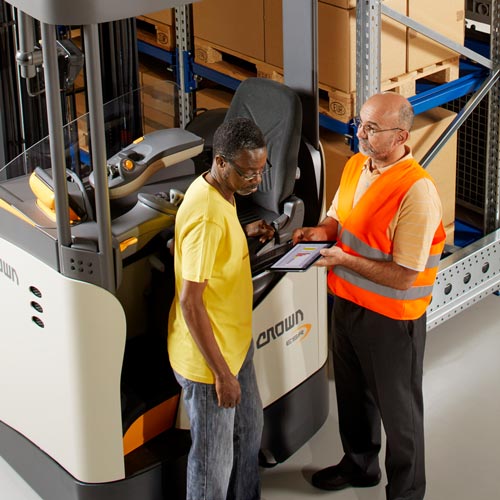 Intelligently Connected

Crown's InfoLink Fleet Management System uses the Gena operating system to provide your organisation with a rich source of real-time performance data to help monitor and manage compliance, impacts, utilisation and productivity.

Up to 90% damage reduction, and
Up to 40% fleet downsizing with integrated InfoLink fleet management
Clear and Concise Help at Hand
The Gena operating system used in the ESR 1000 reach truck makes vital performance data easy to see, understand and use, with a 7-inch colour touchscreen and widgets designed to convey information at a glance.

13+ widgets for truck functions at a glance
25 languages so operators can understand each message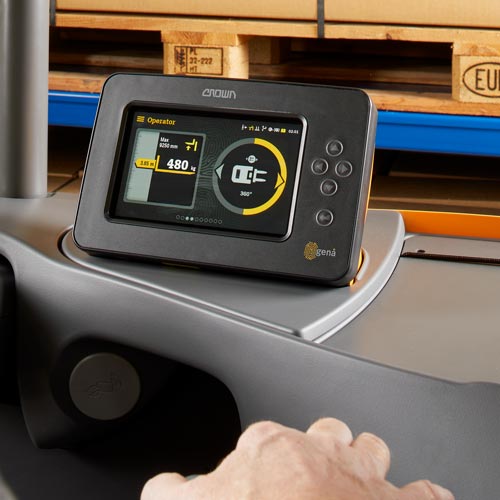 "Crown's recently launched ESR 1000 Series is a reach truck that our operators have come to appreciate for its many innovative features such as Auto Height Select, Capacity Data Monitor and the brand new, intuitive Gena operator experience.
In our tests, this new generation of forklift truck has clearly shown what it can do."
Jan-Peter Wingert, Site Manager at Voigt Logistik, Germany